Art Instruction for your Green School Grant Application
For over 6 years, InterUrban ArtHouse has worked with SMSD through Green School Grants!
ArtSmart Environmental Program Narrative.
Our environmental stewardship programming addresses practical methods to reduce, re-use and recycle solid waste through hands-on arts-integration.

We blend the PTA ArtSmart and Cultural Arts programs, with workshops provided by renown, community artists. These artists exemplify Kansans who care for the environment and pursue their cultural expression.

Students respond to and absorb the environmental messages through physical involvement with materials and direct personal expression e.g. using re-purposed supplies for workshop projects. They are particularly engaged by the artists talking about their own journey as a student, becoming and artist and the sense of responsibility to the earth.

During the workshop, artists ask questions and dialogue with the students about the materials they are re-purposing. Students are engaged not only in the making process, but in reflecting on the way solid waste is generated, recycled, re-purposed or avoided.

The dialogue touches on the variety of solid waste that students regularly encounter and how they can make choices and influence their community to be stewards of responsible consumption and waste management.

We discuss the variety of recycling, composting, consumer choices, and other waste management options they see in their school, home and community. We challenge them to increase awareness and action, not only in themselves, but in classmates, families, scout groups and neighborhoods.
Below are a suggested programs that you may consider as you are applying for the 2017/2018 grants:
Suggested for KINDERGARTEN, 1ST GRADE, 2ND GRADE, AND 3RD GRADE
Anthony 'AO' Oropeza is the artist behind Amigoman, a bilingual comic book super hero, and the newly created Eco Green Team. Oropeza is the entrepreneur behind Strong Ave. Studios, which he founded in 2000. He is also writer, artist, art director, marketer and publisher.
Comic Book Creator, Writer, Artist and Publisher of bilingual comic book AMIGOMAN and the Eco-Green Team. AMIGOMAN books are created for different age groups from Pre-8th. AO's class visits are 45 minutes and he discusses and demonstrates what he does as an artist and creator. AO will conduct an interactive drawing and writing lesson. With every visit students receive AMIGOMAN items such as coloring pages, activity pages, mock comic pages, book marks, postcards and/or stickers. Books are for sale and available at a school discount rate. COST: $170/class of 25 students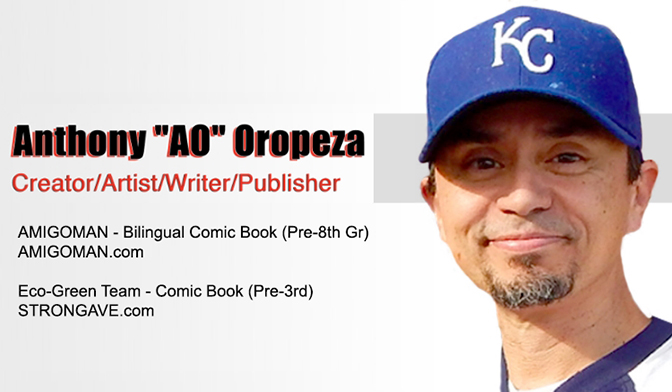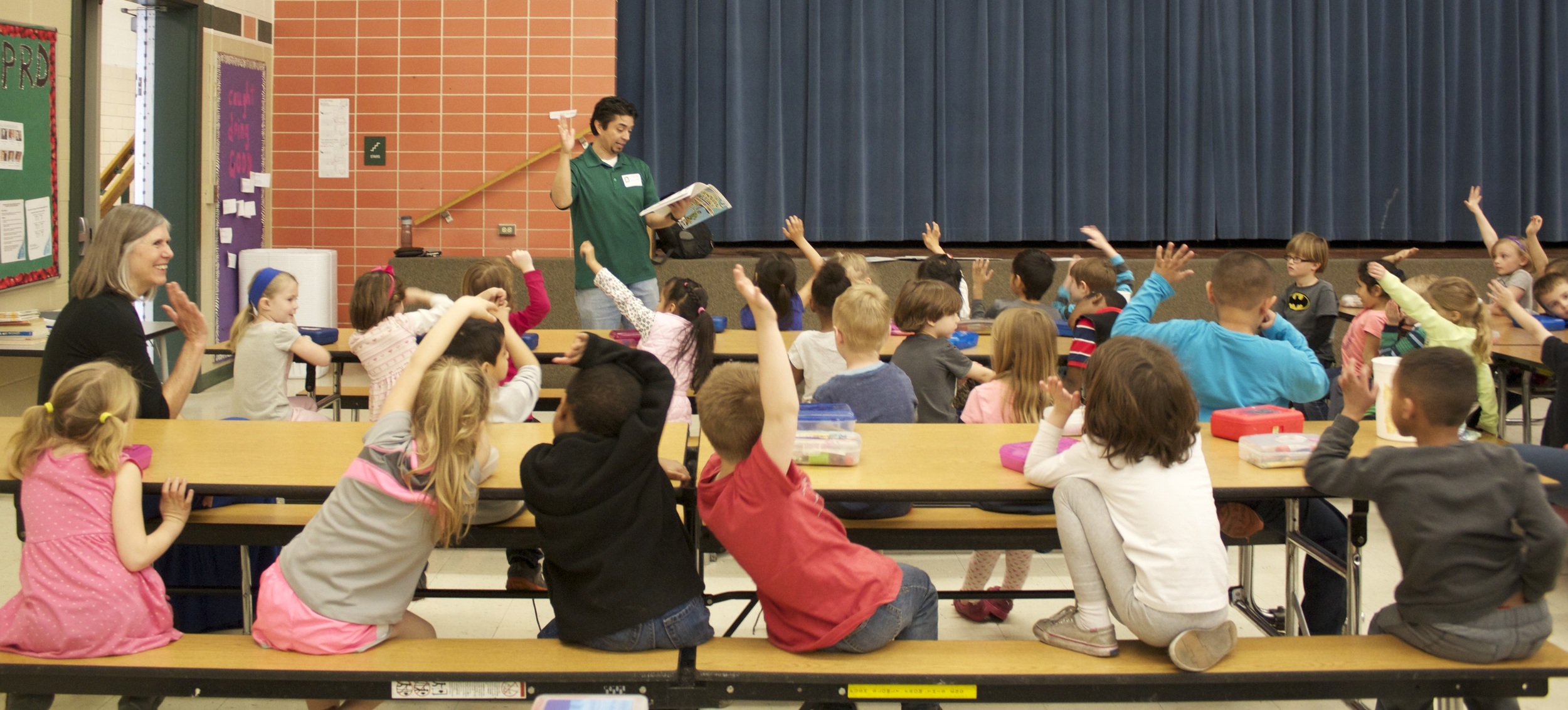 Suggested activity for 4TH & 5th GRADE
RECYCLED MURAL
Students will work together to create a mural (approximately 8 x 4) using recycled materials while discussing topics of landfill diversion. This activity takes 2.5-3 hours and involves the entire selected grade level. The mural is taken to InterUrban ArtHouse for completion and returned to the school to become an installation in a common area of the school. COST: $600/mural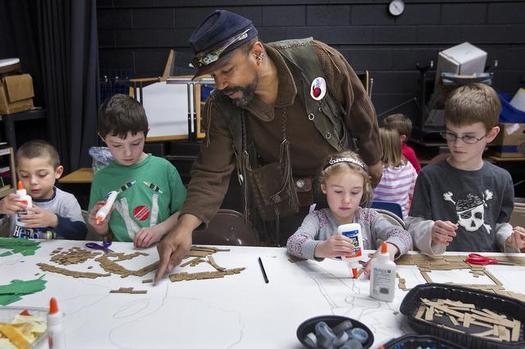 ARBORETUM FIELD TRIP
Suggested activity for 4TH, 5th, OR 6th GRADE
Students will have an opportunity to visit the Overland Park Arboretum and experience a variety of art based environmental activities. The ArtHouse partners with the OP Arboretum and local artists. Activities vary and may include: paper making from recycled materials, exploring printmaking, trash relays, and drawing from observation. This field trip does not include the cost of buses to the arboretum. COST: $275 + Arboretum Admission Fee ($1/student, $3/adult)
Suggested activity for 4TH, 5th, or 6th GRADE
Amado Espinoza & Karen Lisondra perform original and dynamic compositions using instruments rarely seen in Kansas City like the charango and tarkas, as well as different indigenous instruments from all over the globe, all hand-made by Amado.
Amado Espinoza is a composer, multi-instrumentalist and instrument maker from Cochabamba, Bolivia. He teams up with his wife, Kansas-born Karen Lisondra, a theatre-artist who has spent the last decade touring the world with distinguished South American theatre companies. Amado and Karen have been collaborating artistically since 2011. Their mission is to inspire curiosity and respect for indigenous cultures and the environment, stimulate creativity, and promote community values through music.
Retaliating against the mentality that somebody else will take care of the trash is the basis of our hands-on workshops. Youth will be inspired to look at used objects in a wholly creative manner, making and playing their own musical instruments and enhance problem solving skills, self-esteem and community values through instrument making. We compare our recycled instruments to world indigenous instruments, giving a cultural context to our program and demonstrating a respectful and resourceful human relationship to the natural world through music. COST: $170/class of 25 students
OTHER ARTISTS AVAILABLE FOR HIRE THROUGH YOUR PTA FOR OTHER PROGRAMMING:
Jose Faus's artistic practice fits two areas of interest: the communal and the individual. He has been involved in a series of mural projects working closely in and with community. The projects fuel his belief that an artist has a vital role in the creation of community. His individual work includes pen & ink and painting. Jose is also a poet, writer and playwright.
Hema Sharma will give a workshop about the dance, music and culture of India. She will talk about the significance of the costumes, jewelry, movements, and about the Indian people. She also will teach a few words in Hindi, and Tamil. Additionally, she will bring India artwork, crafts, maps, posters, pictures, flags and other Indian exhibits, including a short video or power point presentation into the classroom (if possible). All workshops include a questions and answer session. She will also teach a simple folk dance and perform with the students.
Nritya is a versatile company of dancers who work primarily in the South Indian classical dance style called Bharatha natyam. Heavily based in both rhythm and lyricism, Bharatha Natyam involves the use of the whole body, including dramatic facial expressions, to convey emotions or perform intricate step sequences. Through combining modern spacing, themes and theatrical techniques with yoga and the traditional Bharathanatyam repertoire, Nritya produces dynamic, captivating programs that appeal to all ages.
Other Classes for "Extra" PTA Experiences:
Manuel 'Lukky' Harvey is one of Kansas City, MO's premier hip hop dancers and choreographers. He is a community leader in Kansas City, MO, where he mentors inner city youth, hosts multiple dance battles and outreach programs. Lukky is the Creator of the iPush Hip Hop Workshop series, which facilities the opportunity for local dancers to train with some of the industries top instructors close to home.
StoneLion Puppet Theatre: Using multiple styles of puppetry, including marionettes, masks, shadow, mouth, and rod puppets, StoneLion Puppet Theatre brings the magic of world-class puppet shows right to your doorstep! Shows are fresh, original and educational and can be performed for 30 or 1000. StoneLion tours throughout the Midwest, the United States and beyond!
Wendy Harris is a dancer, choreographer, and mentor. She recognizes there is a need for positive influence in today's world of dance and entertainment. Wendy has passion and heart for women and youth. Through mentoring she gives alternatives on living and maintaining a motivated state of mind.
Offer: Intense Dance Class featuring Hip Hop Choreography, Exercise, Fun and Rhythmic Games. Students are given the opportunity to display Leadership skills by guiding others in various segments during the class period. At the end of each year, the students will showcase learned choreography.
Art Club have professional artists facilitate your after school club! contact us for more information