Our Programs
InterUrban ArtHouse's programs have been developed to serve needs identified through our research and community outreach. We continually develop five innovative programs through community, art and civic partnerships: ArtMatters, ArtWorks, ArtsConnect, ArtSmart, and ArtHeals.
"We envision InterUrban ArtHouse as a vibrant cultural incubator; a creative crucible for creative entrepreneurs."
- Carl Gerlach, Mayor of Overland Park
ArtMatters programming is for artists and creative entrepreneurs wishing to advance their artistic skills, learn new studio methods, participate in discussions and critiques, or to connect with other Creatives. Whether you are an established artist with years of experience or a novice in a new medium, there is always something new to learn.
ArtMatters programming includes our regular Open Studio, Sketch Night, Photography Group, and Painters Social Club. ArtMatters also offers presentations, critiques and workshops by visiting and established artists, discussions, and artist mentoring.
ArtWorks is a professional development and business training program for artists and creative entrepreneurs. In collaboration with regional partners working to improve career skills and business practices.

The vision of the starving artist is a thing of the past. Artists and creative entrepreneurs are innovators who contribute to the vitality of the community's economy. Through ArtWorks programming, we aim to support innovation by enabling growth, advancing business skills and providing training for the creative sector.
Think of all the skills an artist must possess to effectively manage their arts business:
Strategic Planning

Marketing & Communications

Grants Writing and Fundraising

Budgeting, Accounting & Tax Planning

Project Management

Legal Practices
These business skills are necessary to succeed. We help artists make their art their living.
ArtWORKS programming includes our Web & Marketing Co-op, ArtsFunding Series, Global Entrepreneurship Week, legal and accounting workshops, panel discussions and networking.
ArtsConnect is a community engagement program. We place arts and culture at the center of local outreach events, neighborhood festivals, open studios and exhibitions.

The ArtHouse is facilitating District-wide Cultural Planning with leaders from civic, merchant, resident, education and nonprofit sectors.
ArtsConnect programming includes openings and events on Local Life 3rd Friday, monthly Morning Brew, Public Library Exhibitions, Fall Festival, and our annual performance event!
ArtHouse Director Nicole Emanuel has been operating ArtSmart since 2007. The program has provided cross-cultural, multimedia, community arts programming in several Shawnee Mission School District public schools.

Students are exposed to a variety of artists who discuss their careers. The programming themes include multiculturalism and environmentalism. ArtSmart links elementary students, high school mentors, parents and local artists through dance, story telling, music, poetry, puppetry, painting, sculpture and field trips.
Each year, ArtSmart is partially funded through the Kansas Green Schools Grant by the Kansas Department of Health and Environment (KSDHE) and Parent-Teacher Association (PTA) funds. StoneLion Puppet Theater is funded by Johnson County Stormwater Management, Mid-America Regional Council (MARC), Missouri Arts Council, KC Parks and Recreation and ArtsKC.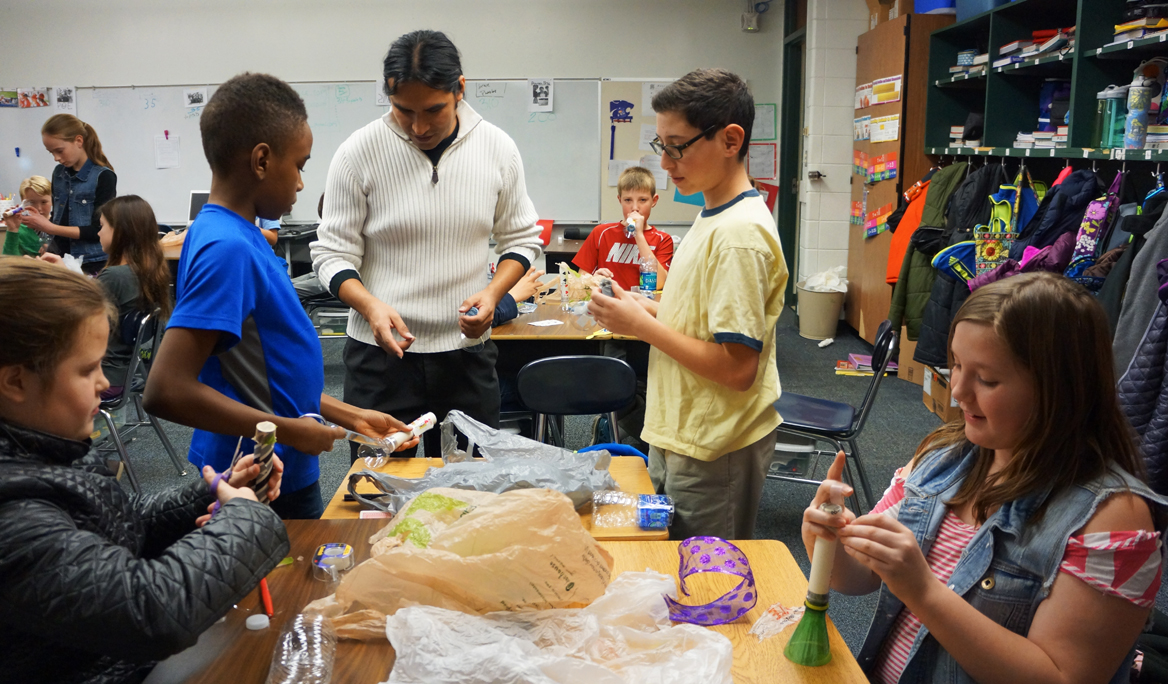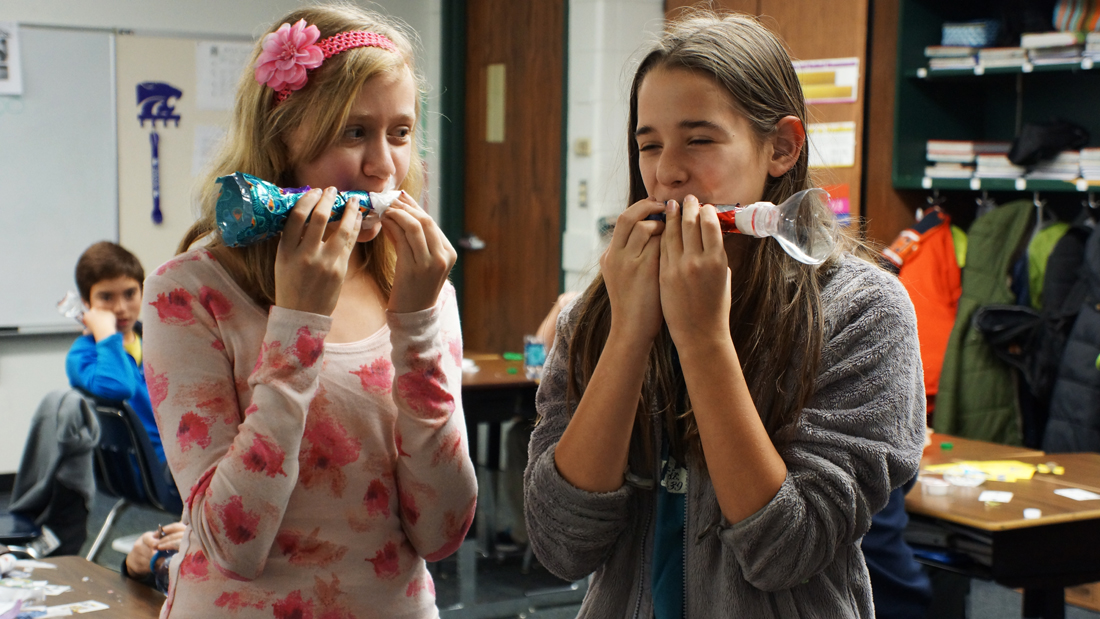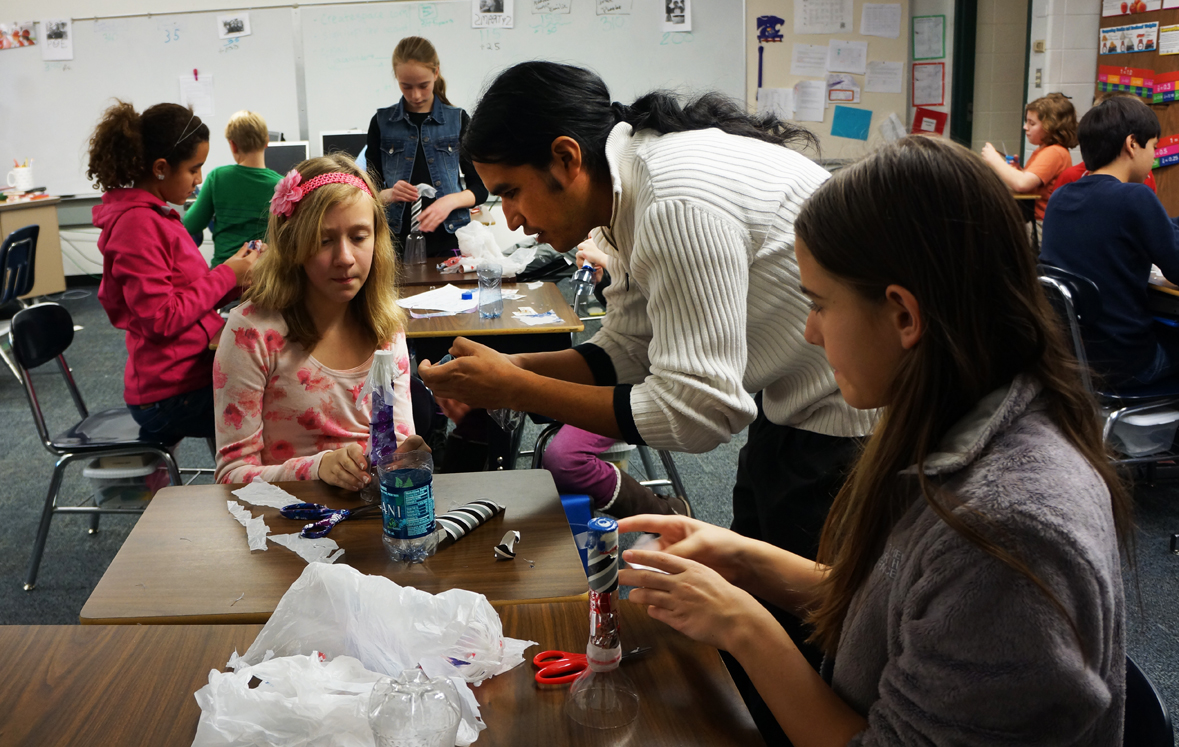 ArtHeals is our art therapy program to promote and support healing through the arts.
IUAH offers public art therapy workshops, groups, and individual sessions lead by trained art therapists. ArtHeals seeks to provide a safe, confidential environment for sharing and creating for community members of all ages and cultural backgrounds.
ArtHeals strives to promote the exploration of self, culture, identity, and more through purposeful art activities.
What is Art Therapy? Art therapy is a mental health profession in which clients, facilitated by the art therapist, use art media, the creative process, and the resulting artwork to explore their feelings, reconcile emotional conflicts, foster self-awareness, manage behavior and addictions, develop social skills, improve reality orientation, reduce anxiety, and increase self-esteem. A goal in art therapy is to improve or restore a client's functioning and his or her sense of personal well-being.
Q: Who benefits from Art Therapy? All individuals. Art therapy is practiced in mental health settings, private and public community settings with diverse client populations in individual, couples, families, and group formats. Art therapy participants may be any age.
Q: Who facilitates art therapy sessions, groups and events? Only trained art therapists who have (at least) a master's degree from an accredited institution recognized by the American Art Therapy Association and/or supervised graduate students enrolled in a master's level program recognized by AATA.
Q: Do I need to have experience with art to participate? No. All that is needed is a desire to participate.
Q: How is this different than an art class? ArtHeals programming is led by trained art therapy professionals with the intent to promote self-exploration. While participants may learn new techniques and artistic skills, the emphasis of the art is placed on the process of creating over the product. ArtHeals programming provides a safe space for learning, creating, and exploring the participant's needs in a therapeutic environment.
For more information please visit www.arttherapy.org to learn more about the field of art therapy and to locate a licensed professional in your area.